Ranch Dressing
I was so happy to get see that Tina at
Mom's Crazy Cooking
will be continuing the
Crazy Cooking Challenge
! The challenge is theme-based so you can find a recipe from, well, anywhere to share as long as it matches the theme. This month's theme: Ranch Dressing.
I must admit to never having made ranch dressing before....but, why not give it a try. We are traveling at the moment but I was able to find a Ranch Dressing recipe to make and share. The plan is to use it as a dipping sauce for some BBQ chicken wings. I found the perfect recipe at
Smells Like Home
.
Ranch Dressing
3/4 cup mayonnaise (I use light mayo)
3/4 cup sour cream
1 Tbsp olive oil
1 Tbsp lemon juice
1/4 to 1 cup buttermilk (I used low-fat buttermilk.)
1 small bunch of chives or 2 scallions, roughly chopped
Small handful of parsley
1 clove garlic
1/2 tsp sea salt
1/4 tsp freshly ground black pepper
Place all ingredients with 1/4 cup of buttermilk in a blender and blend for 10 seconds. Check consistency and blend in additional buttermilk if desired. Less buttermilk for dipping and more for dressing. Store in an air-tight jar in the refrigerator. Leftovers will keep 2-3 weeks.
PRINTABLE RECIPE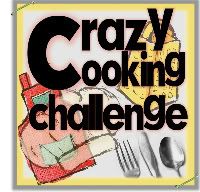 The Crazy Cooking Challenge is fun and stress-free! If you are interested in participating, be sure to stop by Tina's blog, Mom's Crazy Cooking, for all of the information!